Give your customers an App to use
OctopusPro allows you to brand it's app under your own business name, so your business can be on the on the Apple and Google Play stores. Reap the benefits of looking big by giving both your customers and staff an app with the name of your business to use.
Promote your brand
Give your business a large and professional look by getting your own app under your own business name. Your app will be downloaded by both your customers and staff so they can connect and manage their bookings.
Engage with customers
With OctopusPro, customers can view, create and manage their bookings online directly without having to contact your office staff, using a customer facing app that can be customised with your own branding, or customised website with easy access through email links.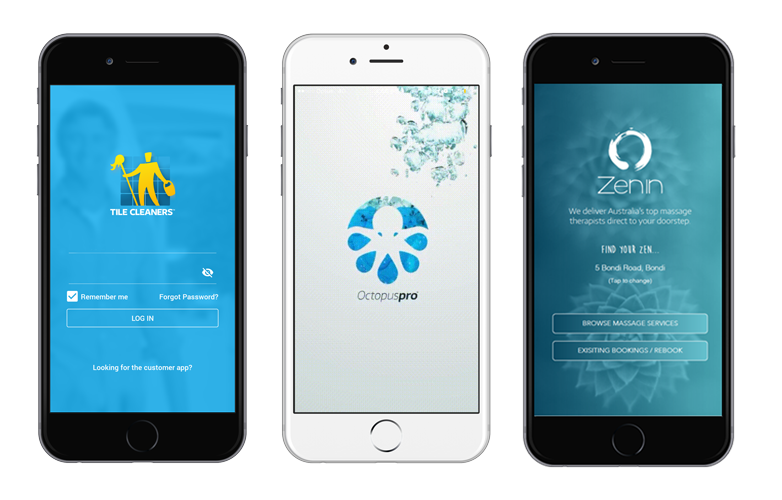 Why do you need a mobile app?
Create a powerful mobile app for your business to engage with customers when and where it counts. Drive sales and keep customers happy with deals and coupons, add new deals at any time then alert customers instantly. Run a digital loyalty scheme to drive repeat business and customer retention. Create and send real-time deals and alerts to engage with customers whenever you want, as often as you want. Always be in your customer's reach anywhere and anytime. If your business thrives on bookings, simplify this process and connect your booking page to the app!
Native Apps in the Apple App Store and Google Play
Put your app in front of millions of potential customers and get your business noticed with an app in the Apple App Store and Google Play! No need to be an app expert – we manage the whole process for you. Get both, iOS (iPhone) and Android apps, done instantly with OctopusPro.

Live 
availability
Manage the availability of your mobile workforce using integrated live calendars that can sync directly with external calendars like Google Calendar, directly through your website or App.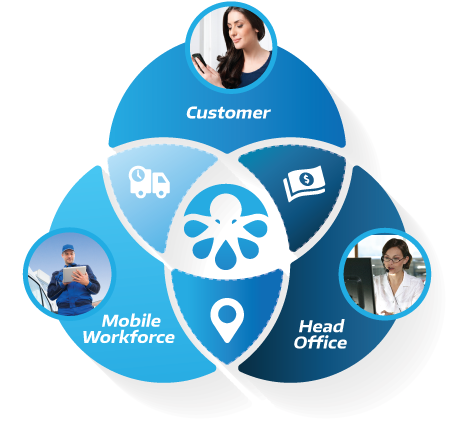 Connect and empower your customers
Manage thousands of customers effortlessly
Allow your customers to use your service 24/7
Win more bookings with real time availability
Allow your customers and mobile workforce to connect directly
Automatically calculate the right price for bookings depending with pre-set formulas
Secure all private information of customers and staff
Compete better in service quality and pricing
Centralise information for optimal efficiency
Give your customers live access to their history with your business
Access anywhere with internet and a browser, or using the app
Capture data for business analytics, operational optimisation and marketing
Maximise your potential and live up to your workers and customers expectations
Collect customer feedback and complaints
Reduce customer service running costs
Create happier and loyal customers
Grow your business!
OctopusPro mobile workforce booking management system is an integrated online solution for service based businesses of all sizes, with connectivity and integration with leading CRMs and accounting systems.
OctopusPro is designed as the ideal management tool for all mobile or field services, from cleaning, to gardening, mowing, locksmiths, pool care, plumbing, antennas, dog washing, baby sitting, car detailing, removals, skip bins, private tutoring, security, painting, tiling, heating & cooling, solar system installations, pest control, or whatever it may be that your business offers as a service to it's clients. OctopusPro is also ideal for real estate agents & builders to manage contractors that work on properties they manage.

Efficiency
Grow your business through optimising resource availability, operational costs and marketing potential with OctopusPro.
Profit more when you empower your customer and you transform your business with OctopusPro.