Manage your bookings seamlessly in the cloud!
OctopusPro empowers you to manage your bookings and appointments efficiently in a way that suits your business, customers and staff.
How does it work?
With Octopuspro, you can capture enquiries online and follow them up directly until they are converted into bookings. Your bookings can be also seamlessly captured online, either as new booking requests or as instant bookings, with or without a payment.
Your team can efficiently look up resource availability and assist customers by phone, and your mobile workforce and service providers can choose to accept or reject new booking requests from their smart phones or tablets, using your App.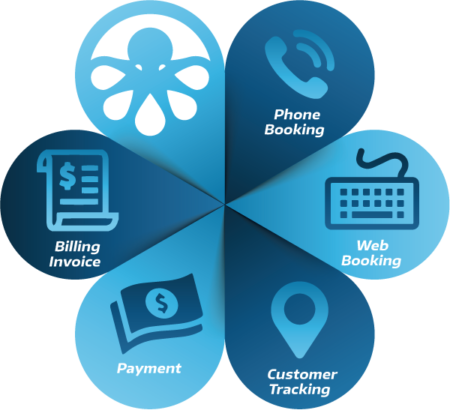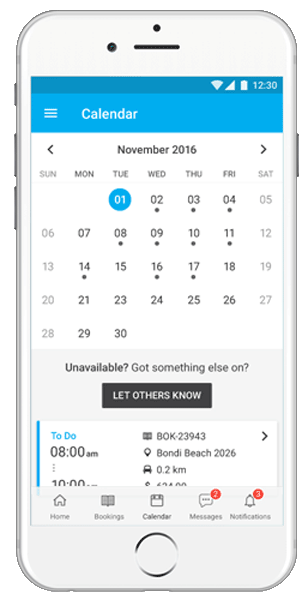 Online Booking Portal: Allow customers to book services conveniently through a user-friendly online portal.
Appointment Scheduling: Efficiently manage and schedule appointments for field workers.
Service Dispatching: Assign and dispatch the right technician based on their availability, skills, and location.
Real-time Tracking: Track the location and status of field workers in real-time to provide accurate updates to customers.
Seamless Booking Management: Handle bookings, requests, and cancellations efficiently.
Online Booking & Payments: Accept online bookings and securely process payments.
Booking System Branding: Customize the appearance and branding of the booking system, providing a consistent user experience across all customer touchpoints.
Calendar Integration: Sync booking and scheduling data with popular calendar platforms like Google Calendar for seamless coordination.
Calendar & Invoice Management: Organize calendars, invoices, and related documentation.


Create more revenue with booking extras

Automated Customer Communications: Streamline communication with clients via automated emails and SMS.


Adaptive and Seasonal Intelligent Pricing & Specials

Customized & Automated Emails: Create and send personalized emails based on triggers or events.
Multi-Location Support: Manage bookings for multiple business locations or service areas.
Capture Customer Details & Payments: Track client information and payments within the system.
Professional Emails & SMS: Send branded communications to clients and fieldworkers.

Fieldworker Check-in & Check-out: Manage attendance and monitor working hours.

Link terms and conditions, product documents, booking related attachments

Reporting & Conversion Tracking: Analyze booking data and track conversion rates. Access detailed reports and analytics to gain insights into key performance indicators, service efficiency, and customer satisfaction.
Bulk Booking Management: Manage bulk bookings efficiently, streamlining the scheduling process for large groups or events.

Accounting Sync: Sync with Xero and QuickBooks for integrated accounting

Offline access through the app for your mobile workforce

Team Collaboration: Enable collaboration and communication among team members, allowing them to share information, notes, and updates regarding appointments.
Multilingual Support: Provide support for multiple languages to cater to a diverse customer base and improve accessibility.
Booking History: Maintain a comprehensive record of past bookings for each client.
Staff and Customer Communication and Management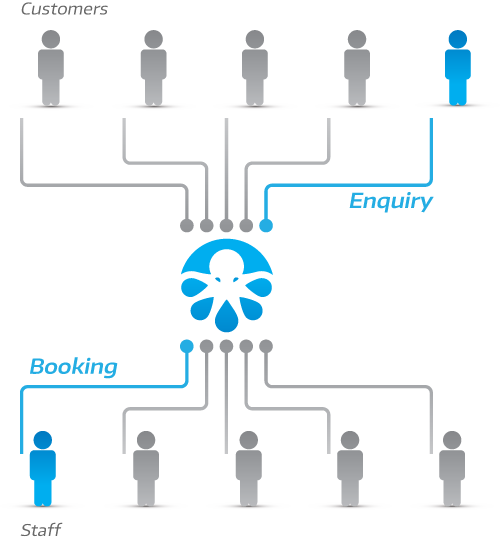 Real-Time availability
Display fieldworker availability in real-time and easily manage the availability of your mobile workforce using integrated live calendars that can sync directly with external calendars like Google Calendar.
Booking Status Tracking
Track the status of each booking, including confirmed, pending, completed, and canceled appointments.
Recurring Bookings
Set up repeat appointments and offer additional services to increase revenue.
Group Bookings
Allow customers to book appointments for multiple individuals or a group at once, streamlining the scheduling process for group services or events.

Go mobile
Your customers and mobile workforce can make and manage bookings online directly without having to contact your office, using your app or customised website.

Work on any device
OctopusPro runs on any device, wether it's your desktop PC or Mac, laptop, tablet or smartphone, or any device that has internet and a browser. Octopus App is compatible with both iPhone & Android devices.

Be safe in the cloud
OctopusPro works from the cloud, meaning you'll never need to worry about software updates or data hosting. Your data is hosted securely and encrypted with the same technology used by big banks.
Win bookings 24/7 with real time availability

Centralise information for staff efficiency

Access your system anywhere with internet and a browser

Increased productivity and reliability in areas with poor or unstable internet connectivity through offline access for site workers through app

Manage thousands of bookings effortlessly

Report to contractors, staff and site workers

Capture data for business analytics, operational optimisation and marketing

Automatically calculate the right price for bookings

Maximise your bookings and meet your workers and customers desired availability

Save time with easy updates for forward seasons each year
OctopusPro mobile workforce booking management system is an integrated online solution for service based businesses of all sizes, with connectivity and integration with leading CRMs and accounting systems.
OctopusPro is designed as the ideal management tool for all mobile or field services, from cleaning, to gardening, mowing, locksmiths, pool care, plumbing, antennas, dog washing, baby sitting, car detailing, removals, skip bins, private tutoring, security, painting, tiling, heating & cooling, solar system installations, pest control, or whatever it may be that your business offers as a service to it's clients. OctopusPro is also ideal for real estate agents & builders to manage contractors that work on properties they manage.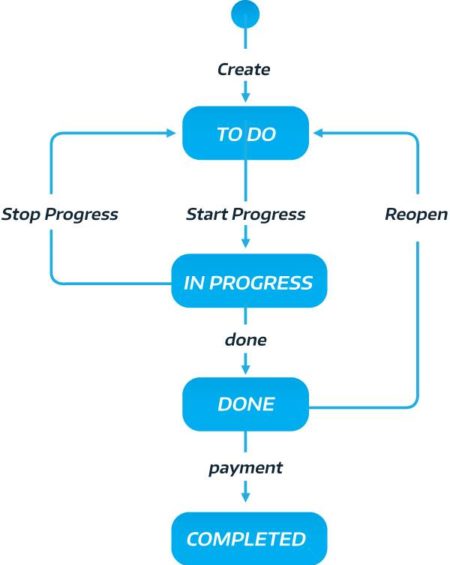 Increased Efficiency
Manage more bookings per staff member & increase your online bookings, revenue and profit. OctopusPro streamlines the entire process, saving time and reducing administrative tasks.
Enjoy the benefits of happier customers & happier staff when you transform your business with OctopusPro.

Stay in Control
Advanced features to help you keep in control of your mobile workforce, their bookings, invoices, payments and accounts.

Increase Conversion
Better management of leads means increased conversion rates, which translates to more sales for your business.

Improve Retention
Cutting edge CRM tools and features to help your business retain customers, which is vital for business success.
Revolutionize your mobile service business with cutting edge software!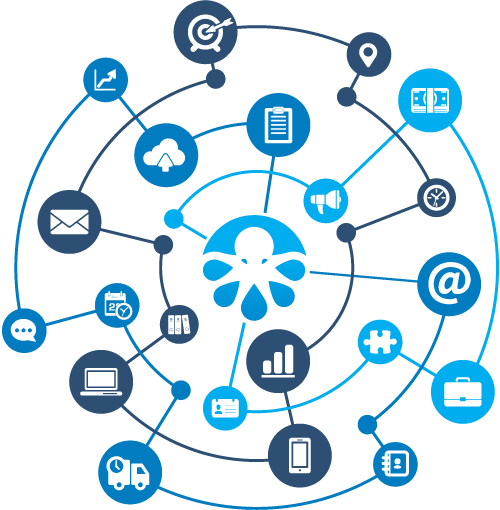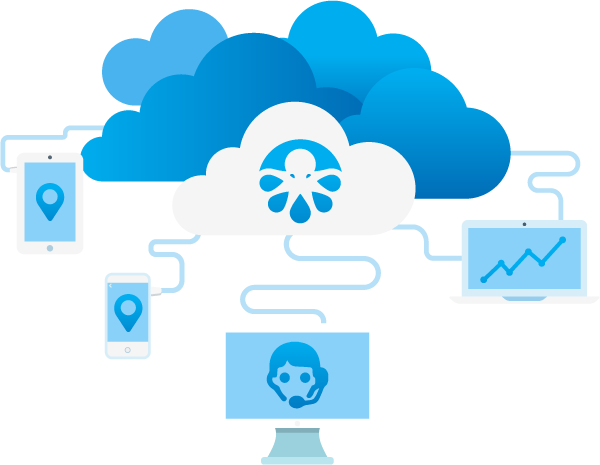 Attachments & Document Management: Link related documents and attachments to records.
Flexible Booking Time Slots: Customize the duration and intervals of available time slots.
Resource Management: Assign and manage resources required for each service or appointment.
Custom Booking Forms: Create custom booking forms to capture essential information from clients.
Cancellation Policy Enforcement: Set up and enforce cancellation policies, including fees for late cancellations or no-shows.
Custom Booking Rules: Create custom rules for specific services or fieldworkers.
Booking Conflict Resolution: Automatically detect and resolve double-bookings or conflicts in schedules.
Booking Analytics: Analyze booking trends, popular services, peak times, and other key metrics.
Reservation Hold: Offer a temporary reservation hold for clients who need more time to confirm their booking.
Integrated Waitlist and Cancellation Management: Manage waitlists and cancellations in one place.
Status Color-Coding: Utilize color-coded appointments based on booking status for easy organization.
Automated Booking Confirmations: Send instant booking confirmations to clients upon successful appointment scheduling.
Client Account Management: Allow clients to create and manage their accounts.
Promo Codes and Coupons: Offer promotional codes or coupons to clients for discounted services.
Fieldworker Calendar Sync: Sync fieldworker calendars with the booking system to display their real-time availability.
Booking Labels: Organize bookings using custom labels and categories.
Pre-booking Consultations: Offer pre-booking consultations to assess client needs and provide personalized service recommendations
Integrated CRM: Integrate with Customer Relationship Management (CRM) systems to manage client information and interactions more efficiently, enabling targeted marketing and enhanced customer service.
Task Management and Delegation: Implement task management and delegation features, allowing managers to assign tasks to fieldworkers and monitor their completion.
Customizable Booking Confirmation Emails: Create customizable booking confirmation emails, providing clients with essential appointment details and a personalized touch.
Automatic Time Zone Conversion: Automatically convert booking times to the client's local time zone, preventing confusion and enhancing the booking experience.
Referral Tracking: Track referrals from clients or partners, rewarding successful referrals and encouraging word-of-mouth marketing.
White-Labeled Solution: Offer a white-labeled solution, allowing businesses to customize the platform with their branding and provide a consistent user experience.
Automated Waitlist Notifications: Send automated waitlist notifications when appointments become available, making it easier to fill open slots and optimize the appointment schedule.
Fieldworker Performance Incentives: Implement performance incentives for fieldworkers, encouraging them to provide exceptional service and maintain high levels of productivity.
Customizable Booking Reminders: Create customizable booking reminders, allowing businesses to tailor the messaging and timing of reminders to their unique needs.
Client Consent Forms: Incorporate client consent forms into the booking process, ensuring that clients understand and agree to any necessary terms and conditions.
Customizable Booking Cancellation Reasons: Customize the reasons clients can choose when canceling appointments, providing valuable insights for businesses to improve their services and reduce cancellations.
Service Description Templates: Offer customizable service description templates, making it easy for businesses to create detailed and informative service descriptions.
Customizable Booking Terms and Conditions: Create customizable booking terms and conditions, ensuring that clients understand and agree to the specific policies of the business.
In-App Messaging: Implement in-app messaging for clients and fieldworkers, facilitating easy communication and collaboration within the booking system.
Integrated Project Management: Integrate project management tools to help manage and track service-related projects more efficiently.
Customizable Email Templates: Offer customizable email templates for various types of communications, enabling businesses to create consistent and professional messaging.
Automated Booking Follow-ups: Send automated booking follow-ups to clients after appointments, encouraging feedback, rebooking, or upselling opportunities.