Manage Remote Services & Bookings
In the dynamic landscape of today's digital era, the trend of remote work is reshaping the way businesses operate. OctopusPro, a leading Remote Work Management Software, is designed to ease this transition and optimize your remote service offerings. Ideal for a broad spectrum of remote services, including consulting firms, online tutoring, wellness coaching, and more, OctopusPro presents a unified platform explicitly crafted for efficient remote work management. Discover the wealth of features that set us apart in the realm of remote work solutions.
A Fully Customizable Booking Site and Branded App
With OctopusPro, create your own branded mobile app and customize your booking page to align with your brand guidelines. Personalize the style, fonts, and colors for a cohesive brand presence across all platforms.
Incorporate high-resolution images to let clients visualize the service experience when booking your services. Showcase images of your team members at work to add personality and credibility, and further customize the booking experience for your clients, helping your business stand out from competitors.
Maximize your conversion rate with an appealing and attention-grabbing 'Book Now' button on all booking platforms. Customize the position, size, and colors to match your brand guidelines.
Maintain complete control over your booking forms. Add all necessary questions to gather all the information you need for each booking.
Unleash the Power of Remote Work with OctopusPro
Remote Work Management Software for Service Providers from Any Industry Irrespective of your business size or the industry you cater to, OctopusPro is designed to adapt to your needs and streamline your remote work processes. It frees up time so you can focus on growing your business. OctopusPro ensures satisfaction for both your team and your customers by giving them more control over bookings, while minimizing your administrative load.
OctopusPro is effectively utilized by businesses from a wide array of industries for managing remote work including:
Remote Consulting and Advisory Services
Online Education and Tutoring
Virtual Health and Wellness Coaching
Telehealth and Virtual Medical Consultations
Remote Tech Support and IT Solutions
Virtual Personal Training
Remote Customer Service and Support
Digital Marketing and SEO Services
Can't find your industry listed? No worries, OctopusPro is highly customizable and can be effortlessly tailored to manage the remote services you provide. With OctopusPro, your possibilities are boundless!
As our professional world embraces remote work, the need for efficient and intuitive remote work and service delivery management solutions is paramount. OctopusPro rises to meet this demand, offering an all-in-one platform to simplify and streamline your remote business operations, making managing remote work feel less like taming an octopus, and more like navigating clear, open waters.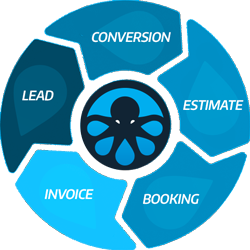 Boost Sales
Increase sales by making it effortless for clients to book your services online or through your own branded mobile app. Enable clients to connect with your remote workforce in real-time and even track progress. It's like having a virtual assistant available around the clock.

Limit Phone Calls: Receive Task Updates Directly on Your Device or Browser
Automate and streamline communication between your clients, administrative team, and remote workers. Keep everyone in sync by receiving automatic updates and task information.

Minimize Delays or Missed Appointments
Engage your clients and keep them informed by sending customizable email and SMS notifications. Notify clients automatically about upcoming bookings and provide updates on task progress.

Real-time Visibility of Your Remote Workforce
Manage your team's availability by integrating real-time calendars that sync with your external calendars. OctopusPro automatically estimates the duration of a service, including preparation and wrap-up times, thus preventing overbooking. No more guessing when your remote workers are available for a new assignment.

Bookings Around the Clock
Our remote work management software allows your clients to book services directly through your website, mobile app, and third-party platforms such as LinkedIn and Facebook. Jobs are automatically matched with the most suitable team members who can then accept or reject the new assignment, making the entire process seamless.

Digital Approvals
To avoid misunderstandings, OctopusPro allows you to capture clients' digital signatures for approving estimates and payments before starting and/or after completing tasks, ensuring complete transparency.
Secure Online Payments
With OctopusPro, accept payments from anywhere. Payments are processed during the task completion by your remote workers using your mobile app, by your back-office staff, or received directly from clients using your app or website.
Data Security in the Cloud
Rest assured, your data is safe. All leads, bookings, invoices, and payments are securely stored in the cloud. In the unfortunate event of a device going missing, all data is encrypted, preventing unauthorized access.
Integration & API
Easily integrate OctopusPro with platforms like WordPress and other content management systems, or use our API to customize your own integrations, making it a breeze to blend OctopusPro into your existing workflow.
Reports & Analytics
Gain a comprehensive view of your business performance with OctopusPro's robust data analytics and reporting. Uncover trends, understand peak times, identify popular services, and evaluate customer behaviors to strategize and grow your business.
Promotions to Boost Sales
Maximize every opportunity with OctopusPro's promotional tools. Offer clients discounts and rewards to enhance sales during slow seasons, or create special offers during holidays. You can set packages and bundles as well as offer vouchers, coupons, and gift certificates.
Solicit Customer Ratings, Feedback, and Reviews
Manage customer satisfaction and complaints efficiently with integrated complaint management features. Address negative feedback promptly to enhance customer satisfaction.
Optimize your business processes and boost revenue with advanced reporting and analysis tools. Gain detailed insights about your clients' needs and their satisfaction with your remote workers and services.
Beyond Scheduling: A Platform for Operational Excellence
OctopusPro is more than a scheduling tool – it's your business's virtual command center. By integrating with familiar tools like Google Calendar, we ensure a seamless transition and easy adoption, while offering advanced features that elevate your operational capabilities. Our platform caters to not only your business needs but also the client experience. With OctopusPro, you can expect automation, optimization, and seamless service delivery, irrespective of geographical boundaries.
Your Industry. Our Solution. Perfect Match.
From consulting firms and online tutoring services to health and wellness coaches and telehealth services, OctopusPro's remote service jobs feature is utilized across industries to streamline operations and enhance service offerings. Whether you're a local operation or catering to an international clientele, OctopusPro proves to be an indispensable tool for managing remote services.
Embrace the Future of Remote Work with OctopusPro
OctopusPro offers comprehensive tools for managing remote job bookings, ensuring seamless interactions between the client, fieldworker, and admin. Incorporating the Remote Service Jobs feature expands service offerings, increases reach and flexibility, and ensures seamless virtual operations. With OctopusPro, managing remote services becomes effortless, delivering an enhanced experience for your team and clients.
Don't let managing remote work feel like a challenge. Step into the future of work with OctopusPro, where operational excellence is at your fingertips. Request a demo today!
Robust Customer Relationship Management
Maintain an organized database of your customers, tracking their complete history of interactions, transactions, and bookings with OctopusPro's built-in CRM capabilities. Enhance your client relationships and personalization strategies with access to data that standalone calendar tools can't provide.
Your Industry. Our Solution. Perfect Match.
From consulting firms and online tutoring services to health and wellness coaches and telehealth services, OctopusPro's remote service jobs feature is utilized across industries to streamline operations and enhance service offerings. Whether you're a local operation or catering to an international clientele, OctopusPro proves to be an indispensable tool for managing remote services.


Customizable Service Catalog
Define and customize your remote services, set different pricing, durations, and offer personalized experiences to your customers. OctopusPro allows you to showcase your services in the way that best suits your business and your clients.

Document Management Made Easy
Manage all your necessary documents guidelines, contracts, learning materials, patient records, meeting agendas, etc., associated with each booking, securely and efficiently. Control access based on permission settings and facilitate better preparation and execution of services. With OctopusPro, managing documents becomes a hassle-free task, improving internal operations and customer experience.
Can't find your industry? No problem, OctopusPro is highly customizable and can adapt to the services you provide!
Leading Remote Workforce Management Solution | Streamline Your Virtual Operations
Harness the power of OctopusPro's comprehensive remote worker overview to make swift, informed decisions when distributing tasks, all without the need for time-consuming phone calls or text messages. With our platform, clients can conveniently schedule appointments that work for everyone involved.
Leverage the power of our smart matching system, which automatically pairs tasks with the most fitting remote workers. These individuals can then accept or decline the task, eliminating the need for your administrative team to serve as intermediaries. Choose from manual approval of new bookings or use the auto-confirmations feature within the calendar for peak operational efficiency.
See how having a Customer Portal will help you drive sales
Reap the benefits of having your own app on the App Store and Google Play Store

Leverage Software in Your Preferred Language and Currency
OctopusPro caters to a global remote workforce, offering multiple language options and currency customization. Enhance your international customer experience by accommodating diverse linguistic and monetary preferences.

Adapting to Different Time Zones
Say goodbye to the hassle of coordinating across different time zones. OctopusPro detects your customers' time zones automatically, ensuring accurate time displays for all users.

Secure Transactions with Multiple Payment Gateways
Secure payments are made easy with an array of payment gateways, including Stripe, eWay, and PayPal. Let us know your preferred gateways, and we'll integrate them, enhancing your remote work payment options and boosting customer satisfaction.

Safe Credit Card Storage
With OctopusPro, customers can store their credit card information securely, encouraging more frequent bookings with a streamlined, swift booking process.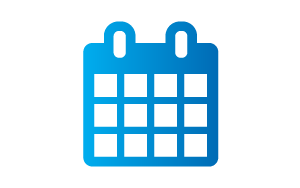 Efficient Calendar Management
Optimize your schedule management with our visual calendar. By providing a clear overview of all appointments, misunderstandings between your administrative team, remote workers, and customers are minimized.
Enhanced Shopping Cart
Facilitate larger orders by enabling customers to book multiple services simultaneously with the 'Add to Cart' function. This feature streamlines the booking process, allowing clients to add all desired services with a few clicks and enter their details only once at checkout.
Flexible Pricing Options
OctopusPro supports complex pricing models, allowing you to set varied pricing rules based on the season, additional services, age, duration, or any other factor relevant to your business.
Social Media Integration
Boost your bookings and customer engagement by integrating OctopusPro's booking function with popular social networks like Facebook, Instagram, Twitter, and Google+.
Customer Support
Our dedicated support team is ready to assist you via live chat and email. Whether you have questions about OctopusPro's online booking software features or need help getting started, we're here to help!
Need to know more about our remote work software or have any specific questions? We're more than happy to answer all your queries and assist you in kickstarting your journey with OctopusPro!
Do you need more details on how to effectively set up and use OctopusPro? Perhaps you're looking for answers to common questions about managing remote services. Our comprehensive User Guide on Managing Remote Services provides all the information you need, from improving client experiences and handling remote teams, to efficiently managing multi-location businesses and customizing the booking process. Explore the guide for detailed insights on how to leverage OctopusPro to streamline your remote operations.