Turn every complaint into an opportunity to improve
Improve your efficiency and boost customer satisfaction
Octopuspro quality assurance features help you handle issues and complaints in a timely and efficient manner. It allows you to quickly view and auto-assign new issues, see issue status, actions taken, discussions, and resolved issues with user-configured dashboards. It also allows you to effectively manage personnel and resources with customisable settings and functions, and leverage multiple communication channels to ensure fast responses to problems. Octopuspro provides you with the tools for robust tracking, reporting and support for all your customer issues, problems and complaints.
Allow your customers to help you manage complaints
Octopuspro allows your customers to report and track their own complaints. It also allows you to open and close complaints, follow up on time and ease with the help of canned and automated responses.
Detect and fix root causes quickly
Octopuspro is designed from ground up to provide a unified booking management platform for mobile & field services that spans all channels & touch points, providing a single set of business rules acting on a single set of data. This means everyone in your organisation sees the same thing and functions as part of the same process. One process for the entire team means nothing will fall through the cracks.
Unleash your organisations continuous improvement and uncover insights from past issues that help you implement successful quality assurance systems to help prevent future issues. Octopuspro helps you identify root causes by identifying clusters of consumer issues with similar characteristics and alerting you before they affect too many people. You can also document your root cause analysis directly in your Octopuspro account.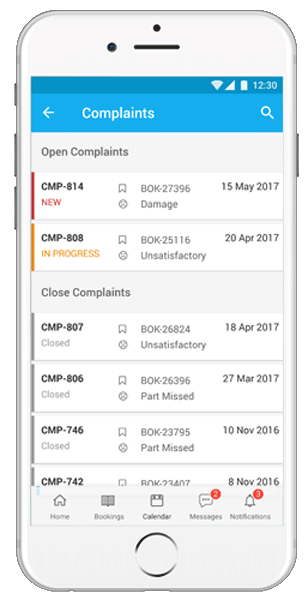 Management tools that save you time
OctopusPro gives you fully integrated customer complaints handling tools, so that you can keep everything related to a case organised and easy to access. You can group similar incidents into problems and solve them all at one go. You can also create reports and dashboards to help you monitor the performance of your whole complaints management system in place.

Communication tools to help resolve issues faster
Respond quickly to every problem, setup templates for correction and prevention, assign tasks to your staff, and monitor the success of those tasks.

Collaboration tools to bring out the best
OctopusPro helps you, your employees and staff, vendors and partners collaborate and improve your services, products and processes.

Customer satisfaction surveys
Easily setup your own satisfaction surveys and automated procedures to be sent to customers when required to help enhance your support desk with insightful feedback from your customers.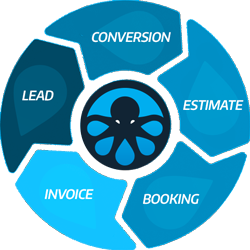 Octopuspro mobile workforce booking management system is an integrated online solution for service based businesses of all sizes, with connectivity and integration with leading CRMs and accounting systems.
Octopuspro is designed as the ideal management tool for all mobile or field services, from cleaning, to gardening, mowing, locksmiths, pool care, plumbing, antennas, dog washing, baby sitting, car detailing, removals, skip bins, private tutoring, security, painting, tiling, heating & cooling, solar system installations, pest control, or whatever it may be that your business offers as a service to it's clients. Octopuspro is also ideal for real estate agents & builders to manage contractors that work on properties they manage.