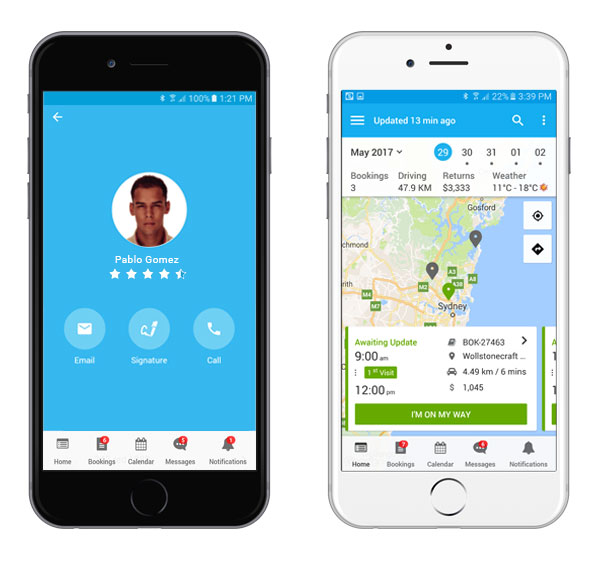 Track job start and finish times for your field workers
With OctopusPro your field workers can check in when they arrive on site, and check out when they leave, helping you keep your schedules on time.
Keep your field workers informed & prepared
Locate staff in real-time, instantly dispatch urgent jobs, communicate with staff and clients easily without repeated & disruptive phone calls.
OctopusPro connects the field to your office, and your office to the field! Keeping your team synchronised and your day hassle free
Share photos with field workers and get photos from the field
Allow your field workers to take photos and videos directly from the app and save them while onsite, so your office can view them instantly and feel connected with the job and site.

 Chat
Keep your business running smoothly. Chat is a must-have for all businesses today. Have an extra part to do? Just shoot Mike a note. Someone running late to the job? Assign a replacement! Plus, most homeowners would rather message a service professional than call them on the phone.
Live map
Keep up to date on the progress of your jobs and appointments by knowing when your field workers arrive on site and what time they leave.

Notifications
Amaze your customers and staff at how easily it is to communicate with your business with automated notifications on changes keeping everyone notified with changes to their jobs and schedules.

Get updates directly from any site to your mobile or browser
Allow your staff to update you on changes and report back to you directly from the job site.

Works even where there is no internet connection
No reception on site? No problem, OctopusPro app works even offline, meaning your field workers can still view their previously loaded jobs and update them even when there is no internet connection, the app with sync with the cloud the next time it's connected.

Track your active field workers and manage their activity
Seeing all your field workers on a map helps you make smart & quick decisions while assigning and distributing jobs between them, without having to interrupt them with a call or SMS.

Stop missing client appointments and reduce client no-shows
Give your field workers access to their full schedule of jobs wherever they are, and send automatic reminders about upcoming bookings to your workers and customers. OctopusPro will even notify them before they need to leave, automatically taking travel time into account.