Allow your mobile workforce to accept and manage bookings on the go
Give your field worker the option of accepting and rejecting jobs easily through the app, so you can quickly assign the job to the next best suitable member of your team.
Get live update on jobs while on site
With OctopusPro app your field workers can check in, check out, manage their work and record job details, upload photos and documents, charge customers, send invoices and capture signatures.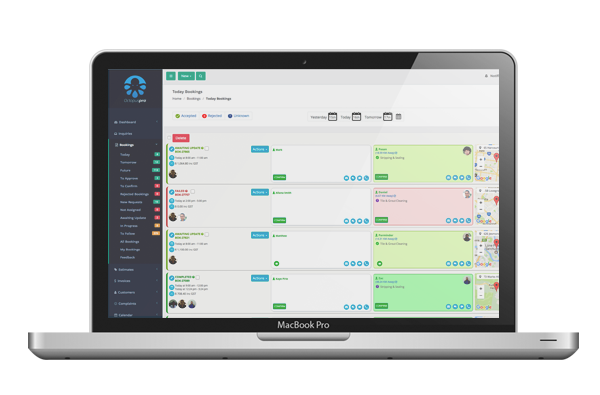 Things can change quickly.
OctopusPro allows you to alert your field workers of all changes through notifications in your app, sms and email so you don't have to manually call your workers to update them on changes, keeping you always updated with all changes on the field.
Reduce office calls and simplify job costing
Make service calls more efficient and reduce running costs, access your system anywhere with internet and a browser, keep your staff and customers happy and grow your business!
Beat your competition with live availability
Increase bookings and improve scheduling.
Centralise information for staff efficiency
OctopusPro's mobile web interface will keep your team constantly informed and updated, up to date and focused on their work to make your business more efficient and more successful.
Track your workforce and respond faster
Instantly flag movement of your mobile workforce during working hours, view live workers to jobs proximity for urgent and on demand work, provide more accurate time arrival estimates.

Share photos and attachments with your staff through the app
Give your field workers quick and easy access to view any photos and attachments that are related to their jobs. Uploading photos and attachments is a great way to keep everyone updated on the specific job.

Dont work hard, work smart. 
We runs your business for you
Share photos and attachments with your field workers through the app

Chat with your field workers
at any time
Keep your business running smoothly. Chat is a must-have for all businesses today. Have an extra part to do? Just shoot Mike a note. Someone running late to the job? Assign a replacement! Plus, most homeowners would rather message a service professional than call them on the phone.

Keep your mobile workforce connected and informed
Amaze your field workers at how easily it is to communicate with your business with automated notifications on changes keeping everyone notified with changes to their jobs and schedules.

Amaze your field workers at how easy we have made it for you to communicate within your business. We have now created automated notifications on any changes that have been made, this way everyone is being notifies of any changes to their current jobs and schedules.