Allow your mobile workforce to accept and manage bookings on the go
Your customers can now view your mobile field workers live-availability. Once a service is booked, your field workers are then able to accept or reject the new booking themselves.
No more acting as a go-between to delegate jobs
OctopusPro gives customers the option to book your services online. The job management software also gives field workers the ability to accept and manage jobs and charge customers. Free up your office staff so there's more time to focus on growing your business!
You will have a birds-eye map view displaying the location of your mobile field workers as well as be able to track job progress and availability. Your mobile field workers can send live updates to your office. Save the hassle of chasing your team with information requests and stay informed and in control.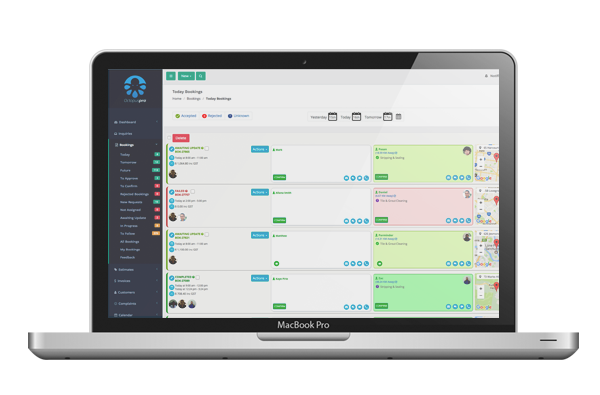 Because things can change quickly
With OctopusPro, your mobile workforce can chat with customers and office staff, and receive

automated reminders and notifications

regarding any job or scheduling changes via your mobile app, email or SMS.
You will reduce no-shows and your entire team will always be up to date even when changes occur.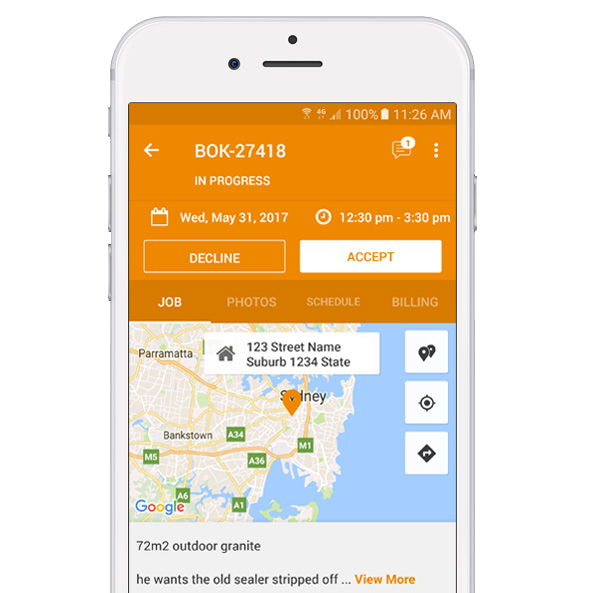 Give control to your field workers
Free up your time spent delegating jobs, and give your field workers the ability to accept or reject jobs by themselves using the mobile app. In case a field worker suddenly becomes unavailable, you can assign someone else or have the system automatically delegate the job to someone else.
With the OctopusPro app, your field workers can check in and out of jobs, manage their bookings and record job details, upload photos, and documents, charge customers, generate invoices from quotes and take digital signatures from customers. All from start to finish, without you needing to micromanage your workforce.
Connect your office with the field, and your field with the office
Take control of your workforce no matter how big your team is or how far apart and remote your jobs are. With OctopusPro, you can manage your field workers with just a few clicks!  
Spend less on management & increase conversions
With the help of OctopusPro, you will save time and reduce administration costs while making it easier for your customers to book your services. Increase your conversion rate and boost your cash flow.
Keep everyone up to date in real-time
With automated notifications, reminders, and alerts, you can keep everyone up-to-date. All customer and job history will be stored automatically in one place and is visible to everybody granted access, enabling more efficient work. 
Beat your competition with live-availability
Gain a competitive advantage by being the service provider making it easiest for customers to book services! Knowing exactly how much the service will cost, and being able to book whenever convenient will keep customers coming back.
Reduce office calls
With the job management software, you can instantly view live workers-to-jobs proximity for urgent and on-demand work. You will be able to provide more accurate time arrival estimates.
Access anywhere, anytime
Access and manage your booking system online with no need to update your software. Provide mobile access to staff to assist and notify them of any changes while on the road. OctopusPro app even works offline.
Faster communication via chat
Chat is a must-have for all businesses today, speeding up communication between your office, field workers, and customers, helping to keep your business running smoothly. Plus, most customers would rather message than call a service professional.
Track your mobile workforce
Track the location, movement, availability, and progress of your mobile workforce in real-time and view their proximity to urgent and on-demand work while providing customers with more accurate arrival time estimates.With integrated navigation, your staff will always find the fastest route to your customers!
Get the job done right with checklists
Provide your field workers with automated checklists for each service. Your workforce will always be prepared and able to do the job right the first time.

Automate quoting and invoicing
Increase conversions by providing your customers with instant and accurate quotes online. Once the work is done, your field workers can convert the quote to an invoice that is payable by customers while on the job. The issued PDF invoice can also be sent via email, SMS or printed and sent in the post.

Secure your data in the cloud
Keep your data safe by storing all leads, bookings, invoices, and payments securely in the cloud. OctopusPro has an easy-to-use CRM that automatically links customers to all inquiries, bookings and invoicing. You'll be able to easily access all customer information in the one place and be aware of each customer's needs in just a few clicks.

Search easily
Get instant access to any information about past jobs and customer details by searching an invoice, booking or estimate number, or a customer's phone number or email address.

Reports & statistics
Improve your processes with the help of exportable reports of up to date analytics. Have all your data in one place to track progress and results. Easily sync with Google Analytics.
Get support
Receive help and support via live chat and email. Our support team will gladly assist you with any issues and questions.
Keep your mobile workforce connected and informed
Amaze your field workers at how easily it is to communicate with your business with automated notifications on changes keeping everyone notified with changes to their jobs and schedules.

Do you have questions regarding the job management software or OctopusPro in general? We will gladly answer all your questions and help you get started!