Automate your invoicing and payment reminders
OctopusPro's cloud-based invoice management software automates all your invoicing and payment reminders. No more stress and messy paperwork. You will be able to plan and track your work, invoice on time and get paid each time!
Manage thousands of invoices at once
Save time with the ability to effortlessly manage thousands of invoices at once with batch invoicing.
Field workers can invoice directly from the job site
With the OctopusPro mobile app, your workforce are able to invoice clients directly, and collect payment by credit card before leaving the job site!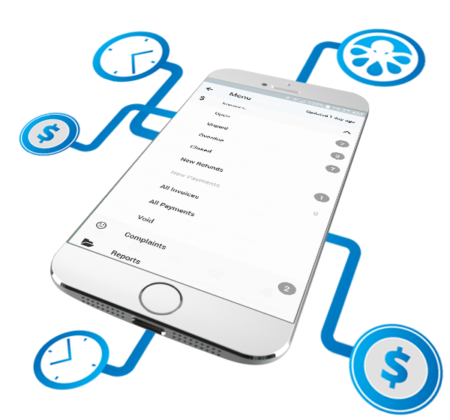 Get paid faster
Enable your customers to pay you directly on your website or using your mobile app and ensure you get paid for every job

Improve your efficiency
You can create recurring invoices to auto-bill clients and manage thousands of invoices at once with batch invoicing

Save time and paperwork
Enable your field workers to charge customers on site and automatically generate invoices from a quote, taking into account any add-ons and job updates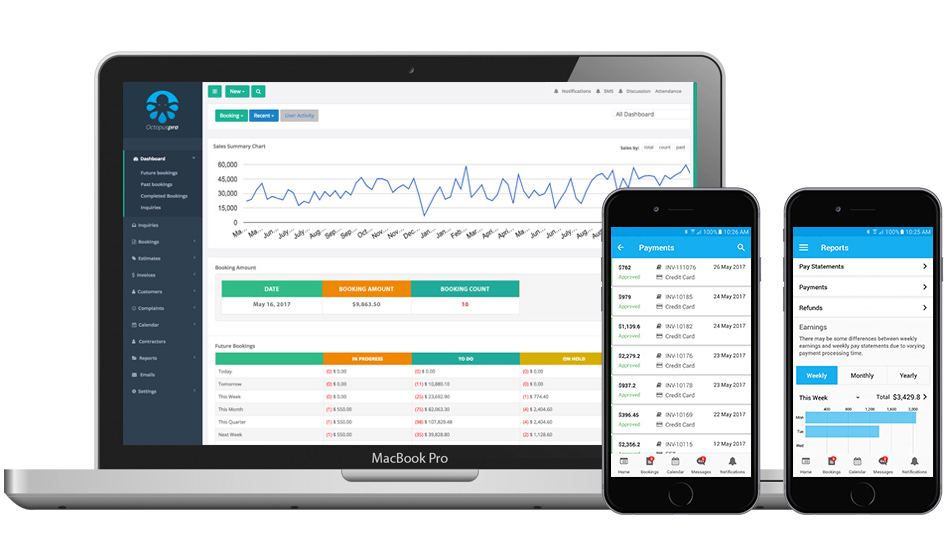 Run the numbers with reports summarizing your invoicing, payment transactions and timesheets
Reports are a great way to review how your company is functioning. The invoice management software generates reports to assist you with pinpointing where further attention may be required. Reports will also provide you with a simple way to gain important insight into your business operations.
Easily send several invoices at once with OctopusPro's batch invoicing features
OctopusPro allows you to send thousands of invoices at once. Instead of having to spend long nights doing paperwork, you can focus on growing your business!

GET PAID ANYWHERE, ANYTIME
On the go, in the office, online

MULTIPLE PAYMENT OPTIONS
Process secure payments via PayPal, Stripe, eWay, American Express, Visa, Mastercard, Diners Club and more

FAST, AUTOMATED PAYMENT PROCESS
No accounting or tech skills required

GET PAID FAST
No waiting around for the cash to land into your account – Our settlement times are cash-flow friendly

EASY TRACKING
Easily track customer payments and reconcile them to invoices

STREAMLINE YOUR WORKFLOW
Create and manage recurring invoices, auto-bill your clients and schedule payments to groups of customers, with just a few clicks

EASILY ADD SURCHARGES
Want to add surcharges for credit card payments? No problem. It's built in.
24/7 SUPPORT
We provide 24/7 support from REAL humans, here to help you every step of the way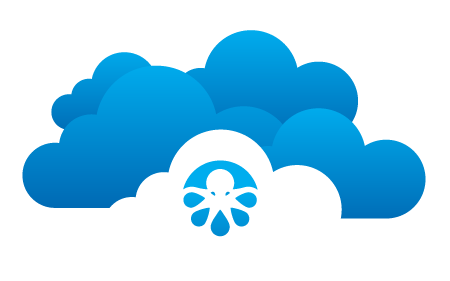 No more paperwork - Free yourself with the cloud-based solution
You will save a lot of time handling paperwork because your jobs will either be paid directly by your customer, charged or invoiced on site by your field worker. Your staff can automatically send professional PDF invoices after completing a job, all stress and paper free!
Create professional invoices

After completing a job, field workers can add all provided services to the bill, and create an invoice then and there, with just a few clicks. The customer will instantly receive a PDF invoice via email or SMS. The invoices can also be printed and sent in the mail.
Invoices are generated using the latest quote including any updates as well as all client details, your company logo and other billing information.
Using the job costing feature, you can easily view profitability for each job.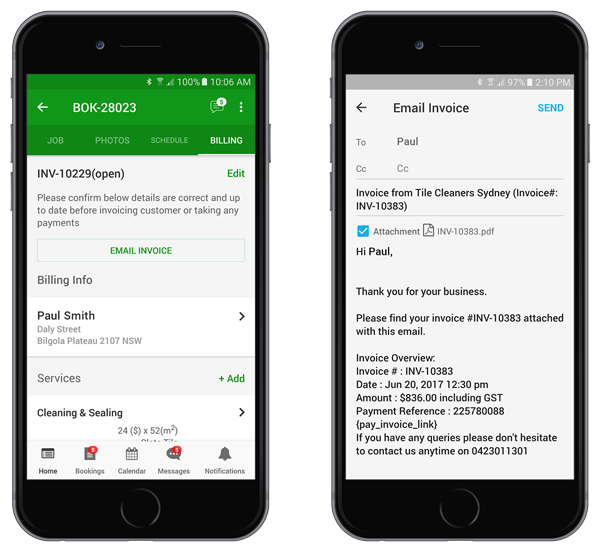 Do you have questions regarding the invoicing feature or OctopusPro in general? We will gladly answer all your questions and help you get started!