Window Cleaning Software that Transforms Business Operations
OctopusPro can help your business oversee various window cleaning services including residential window cleaning, commercial window cleaning, high-rise window cleaning, and post-construction cleaning. Our specialized services also extend to more complex needs such as high-pressure cleaning, gutter cleaning, solar panel cleaning, and glass restoration. OctopusPro can also help businesses offer additional services like emergency services, mobile window cleaning services, and monthly maintenance packages.
Embrace the opportunity and revolutionize your window cleaning business with a FREE Trial!
   • Enhance window cleaning operations management
   • Simplify window cleaning job scheduling
   • Free up invaluable cleaners & office staff time
   • Amplify your window cleaning business profits!
OctopusPro can help your business oversee various window cleaning services including residential window cleaning, commercial window cleaning, high-rise window cleaning, and post-construction cleaning. Our specialized services also extend to more complex needs such as high-pressure cleaning, gutter cleaning, solar panel cleaning, and glass restoration. OctopusPro can also help businesses offer additional services like emergency services, mobile window cleaning services, and monthly maintenance packages.
Window Cleaning Rota Management

Stay streamlined and amplify your efficiency by synchronizing multiple window cleaner calendars and job scheduling. Keep your clients informed and your cleaners prepared for any task at hand.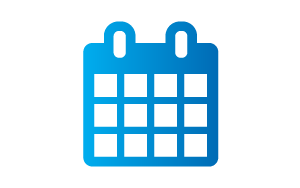 Job Forecast: Daily, Weekly, Monthly Views
Customize your calendar outlook to match your window cleaning business needs. Review your service bookings on a daily, weekly, or monthly basis to keep track of your operations.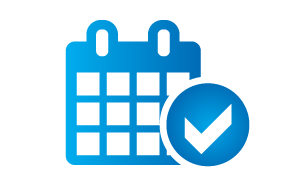 Automated Cleaning Reminders
Never miss a crucial job again! With our auto reminder feature, you can now send automated emails and SMS notifications for every window cleaning job that is booked, cancelled, or rescheduled.
Streamlined Management for your Mobile Window Cleaning Business
OctopusPro enhances your mobile window cleaning operations, facilitating efficient booking, customer administration, and task management. By consolidating these processes, it enables you to focus more on delivering superior services to your clients, while reducing the time spent on daily scheduling. This unified management approach enhances your business operations, team communication, and customer service delivery, boosting both efficiency and profitability.
OctopusPro securely houses essential customer information in the cloud, covering profiles, contact details, service requirements, appointment history, and feedback. This information is accessible when you need it, ensuring smooth operations whether you're providing residential window cleaning, solving commercial window cleaning challenges, tending to high-rise window cleaning issues, or conducting post-construction clean-ups.
Our SEO-optimized platform brings your window cleaning business to the forefront of online searches, attracting more customers looking for reliable and professional window cleaning services. Embrace OctopusPro today to elevate customer service, streamline operations, ramp up productivity, and drive your revenue growth.
Revolutionize Your Window Cleaning Business with OctopusPro's Forms and Checklists Feature
OctopusPro's forms and checklists offer an organized, digitized approach to streamline your window cleaning business. This versatile feature supports both online and offline access, provides data validation, facilitates easy sharing of information, and enhances overall business performance by promoting standardization, accountability, and efficiency. It allows for customization to fit your specific needs, ensuring data collection at all stages of the booking process. Distinguish your service offerings with this tool, offering a marked improvement in task organization, customer satisfaction, and operational profitability.
Our platform stands as a staunch supporter of mobile window cleaning operations, offering real-time job status, automated client communication, handy job checklists, and immediate payment collection capabilities. This ensures a significant boost to your overall productivity and the quality of customer experience you deliver.
Unified Management System
Boost productivity and stay organized by managing your entire team's calendars and schedules in one consolidated platform. This feature allows you to oversee multiple window cleaners simultaneously, ensuring efficient operations and balanced workload.
Real-Time Staff Activity Log
Stay abreast of your team's actions with a comprehensive activity log. This feature allows you to track your window cleaners' tasks throughout the day, ensuring transparency and efficient performance management.
Proactive Client Management
Keep your clients in the loop about every step concerning their booking. From scheduling appointments to job status updates, make sure your customers are always informed, promoting transparency and building stronger customer relationships.
Streamline Window Cleaning Service Billing Cycles
Along with its numerous other features, OctopusPro offers a versatile invoice grouping capability. This feature proves incredibly beneficial for window cleaning businesses that manage extensive service contracts or multiple service requests from the same client. By grouping invoices, you can effortlessly manage multiple invoices for different window cleaning services, making it easy to track and manage billing for all service requests. This feature aids in maintaining comprehensive financial records and facilitates efficient operations for your window cleaning business.
Automate Your Emails and SMS for Time-Efficiency
Utilize OctopusPro's integrated mailing list feature to manage all communication with both your customers and staff. If you're already using an external mailing list provider, it can be effortlessly integrated into your OctopusPro account. This automation saves valuable time and ensures consistent communication, keeping everyone informed and aligned.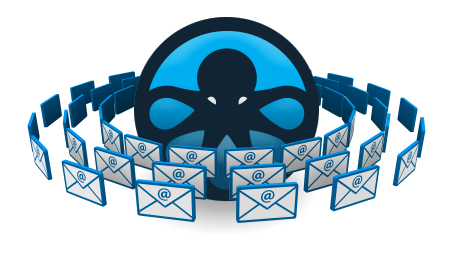 Manage Large Portfolios and Contracts
Master the art of managing your clients' property portfolios with OctopusPro's grouped invoicing, real-time updates, and more. OctopusPro is the go-to solution for window cleaning businesses that provide services for large property portfolios, such as high rise buildings, real estate agencies, property management companies, or commercial businesses.
With OctopusPro, you can efficiently manage these property portfolios and provide a streamlined, tailored service that meets the unique needs of each client.
Group and Merge Invoices
By grouping invoices, businesses can also provide their clients with a clear and comprehensive overview of all services provided and their associated costs. This can help build trust and transparency with clients and ensure that businesses are properly compensated for the services they provide. Overall, the ability to group invoices is just one of many features that make OctopusPro a comprehensive and efficient solution for window cleaning businesses that service numerous locations or clients. By utilizing OctopusPro's features, businesses can manage their services more effectively, improve their profitability, and stand out in a competitive market.
Never Miss a Window Cleaning Service Request Again
OctopusPro ensures your office and customers stay connected with your mobile window cleaning workforce and their locations at all times. With real-time tracking, you can enhance productivity, maximize efficiency, and ensure all window cleaning tasks are on schedule while minimizing downtime and waiting periods.
Automated Customer Responses
Save valuable time by dispatching automated responses to your clients. Keep them informed about every step involving their service inquiries and bookings, promoting transparency and building customer trust.
Integration with Google Calendar, Xero and QuickBooks
Combining your emails altogether will make it easier when managing your business.
Customise your calendar
OctopusPro's module based system means you can modify the calendar to suit your business requirements.
Automatically Match the Best Window Cleaner for the Job
With OctopusPro, managing your window cleaning business becomes an effortless task. You can swiftly delegate tasks to your cleaning team based on their unique proficiencies and expertise. The platform gives you an insightful breakdown of their varied skills, whether it's residential window cleaning, commercial window cleaning, high-rise window cleaning, or conservatory cleaning. Tailoring job allocation based on these specialties not only increases efficiency but also ensures top-quality service delivery.
Monitor Your Mobile Window Cleaners
OctopusPro provides real-time tracking capabilities for your mobile window cleaning workforce. This feature not only saves time when delegating tasks but also enhances customer service by providing transparent and reliable appointment updates.
Skill Alignment for Window Cleaners
Efficiently dispatch jobs based on window cleaners' skill sets and services, ensuring the right expertise is matched with each task, whether it's residential window cleaning, commercial window cleaning, high-rise window cleaning, or conservatory cleaning.
Real-Time Availability
Efficiently manage the schedules of your mobile window cleaners using the integrated live calendars. These calendars sync directly with external systems like Google Calendar, providing a real-time overview of your team's availability. This feature facilitates seamless scheduling and ensures that your window cleaning services are efficiently dispatched, contributing to customer satisfaction and business productivity.
Exchange Photos and Documents with Your Window Cleaners Through the App
OctopusPro allows you to upload and share photos or documents relevant to the window cleaning service at any point in time. This enables your window cleaners in the field to view and discuss any documents or visual references associated with their tasks.

Communicate Efficiently with Your Window Cleaners
Minimize office calls by providing your window cleaners access to chat with your office directly through the OctopusPro app. This fosters immediate and efficient communication, ensuring timely resolution of queries and issues.
Offline Document Sharing
OctopusPro facilitates document uploads and viewing on the cloud, enabling your team to access necessary documents anywhere, anytime – even offline. This ensures continuity of operations, regardless of connectivity.
Safeguard Photos and Documents
Secure all your window cleaning service-related photos and documents with OctopusPro's cloud-based solution. This ensures the safety and privacy of your business data, while also providing convenient access whenever needed.
Enhanced Accessibility for Staff and Customers
OctopusPro also allows you to brand its app under your own business name, listing your window cleaning business in the Apple and Google Play stores. This not only augments your professional image but also equips your staff and customers with a branded mobile app, improving recognition and accessibility.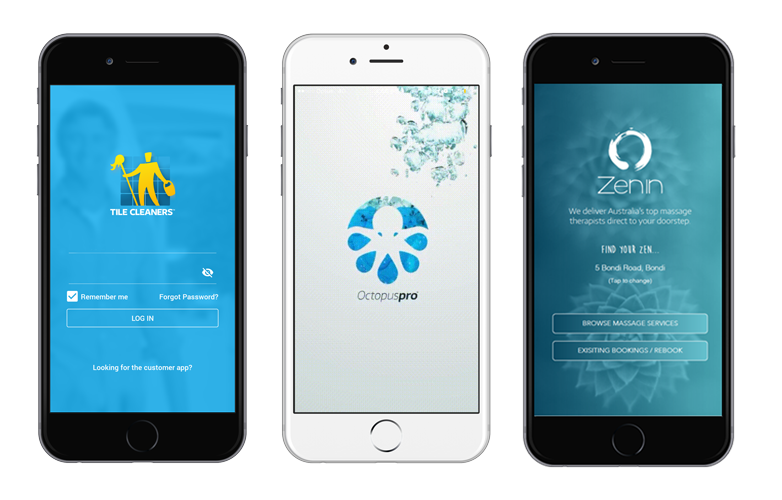 Boost Conversion Rates
Develop strategies to advance your lead management, boost conversion rates, and drive sales for your window cleaning business. Leverage referral codes and discount vouchers to encourage satisfied customers to refer others, expanding your customer base and conversion potential.
Heighten Customer Retention
Employ state-of-the-art CRM tools and features to effectively manage customer lists, store property details, and track service history. Engage customers through tailored experiences, monitor their behavior, automate communication, and offer incentives to enhance customer retention and cultivate loyalty.
Maintain Control
Reap the benefits of advanced features that enable you to maintain control over your mobile window cleaners. Effectively manage their schedules, handle invoices, streamline payments, and maintain precise accounts to ensure seamless operations and efficient management of your window cleaning business.
Ensure Timely Attendance for All Window Cleaning Bookings
Offer your mobile window cleaners the flexibility to accept or decline bookings. This feature not only makes your window cleaning business an appealing place to work but also helps ensure that all service appointments are attended on time. By empowering your window cleaners with choice, you contribute to efficient operations and elevated customer satisfaction.

Online Appointment Management
Leverage OctopusPro's cloud-based solutions to book, manage, and track all window cleaning jobs online, maintaining control at all times. Enable customers to generate accurate service quotes and place booking requests for window cleaning services effortlessly.

Self-Service Booking
Integrate OctopusPro with your existing website and accept online window cleaning service bookings! Personalize your portal with your business branding, including color schemes, styles, and fonts, without needing any design expertise. Display your range of window cleaning services and additional offerings. Use your portal as a standalone website or seamlessly incorporate it into your existing online presence.
Automated Appointment Reminders
Eliminate the risk of missed window cleaning appointments! OctopusPro enables you to send automated emails and SMS reminders to your customers and field window cleaners for every job that's booked or rescheduled. Furthermore, remind your window cleaners about their upcoming appointments through convenient app push notifications.
Integrate your website and accept bookings online!
Our platform empowers your customers to produce accurate quotes and submit booking requests for your window cleaning services.
Personalize your portal with distinctive elements of your brand, such as color themes, styles, and fonts, no design expertise needed.
Boost your brand's visibility by integrating your company logo, background images, or favicon into your portal.
Display your window cleaning services and additional offerings, simplifying information access for customers.
If your business lacks an existing website, your portal can function as a standalone site, or you can integrate it smoothly into your existing website.
Incorporate a "Book Now" button on your website to enable customers to easily schedule appointments.
Add a login/signup button to your website to provide customers with convenient access to manage their bookings and payments.
Employ your own domain URL to create a seamless online experience fully integrated with your website.
Link to social media networks and online directory listings to expand your reach and engage with a broader audience.
Offer multi-language options to cater to a diverse customer base.
Compatible with all website builders, regardless of the platform

Integrate with industry-leading payment gateways

Get Paid On Time!
Don't let the complexities of administrative tasks hinder your window cleaning business or postpone your payments. Our platform revolutionizes your business management by handling the entire payment process from start to finish. This includes securely receiving invoice payments from your clients, enabling you to focus on other key areas of your business.
Instant Invoicing
Generate invoices immediately after service completion to accelerate payments. This ensures a smooth transition from job finalization to the payment process, reducing delays, and improving cash flow.
Digital Signature Capture
Our platform's dynamic feature allows you to capture customer signatures directly on your mobile device. This promotes an efficient and paperless transaction, confirming the authenticity of the service provided and the client's agreement to pay.
Automated Payment Reminders
Ensure consistent cash flow by sending automated reminders for unpaid and overdue invoices. This feature helps reduce late payments while fostering a sense of accountability among clients, improving your business's financial health.
Payment Processing Through the App for Your Window Cleaners
Our platform empowers window cleaners to create detailed invoices and manage payments directly within the app, building a sense of trust and transparency with your customers. By providing a clear breakdown of window cleaning services rendered and their costs, our platform enhances your credibility while making transactions smoother for your window cleaning business.
On-Site Invoicing
Ensure timely payments by creating invoices on-site, immediately after the window cleaning service is delivered. This promotes a seamless transaction process and enhances your business's cash flow.
Payment Management Transparency
Keep your clients informed about every financial transaction related to their booking, including payments and refunds. This ensures transparency and builds customer trust in your window cleaning business.
Improved Customer Satisfaction
Process payments and invoices efficiently, leading to an improved customer experience. Prompt and hassle-free transactions not only enhance customer satisfaction but also encourage repeat business and positive referrals.
Safeguard, Archive, and Access Your Window Cleaning Business Data
Our platform enables you to generate real-time reports on all aspects of your window cleaning business - bookings, contractors, sales, employees, payments, and customers, with advanced filtering options. The system automatically logs a history of all reports, providing you the flexibility to view and export your data whenever needed.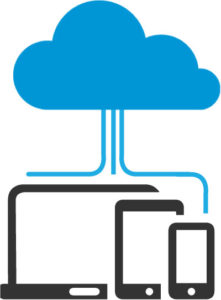 Offline Operations at Your Fingertips
Experience the freedom of managing all your window cleaning bookings, appointments, and tasks efficiently, anywhere and anytime. Cloud operations allow you to control your administrative tasks, freeing up your time to focus on aspects that directly benefit your window cleaning business, staff, and customers. Moreover, the app's offline functionality ensures uninterrupted access to your business data and operations at all times.
Boost Your Window Cleaning Business Sales and Profits
Every customer inquiry can be turned into a profitable engagement with the right tracking and management. Our platform provides your window cleaning business with powerful analytical tools that help steer every lead effectively towards your revenue goals. With our platform, you can unlock the full potential of your window cleaning service leads, accelerating business growth and profitability.
Tailored to Your Brand
Our platform's modular system allows you to customize the platform to fit your specific window cleaning business needs. The flexibility of the platform ensures it grows and adapts with your evolving business requirements.

Access Anywhere and Anytime
Designed with mobility in mind, the app is compatible with iOS and Android devices. This ensures your window cleaners have the necessary tools at their fingertips while they're on the move, making job management and communication a breeze.
Data Security
Our cloud-based solution guarantees the security of your business data. With the added ability to access your information anytime, you can run your window cleaning business with peace of mind knowing that your critical business data is secure and readily available when needed.
Reduce Complaints and Increase Customer Satisfaction
Leverage the efficiency of our platform to manage and reduce customer complaints effectively in your window cleaning operations. Keep your clients informed by providing them real-time tracking capabilities for their booked window cleaners and the status of their service requests.
Customer Feedback Management
Efficiently manage customer feedback, reviews, and complaints, enabling you to refine your window cleaning services continually. This not only boosts your service quality but also allows you to identify areas for improvement and consistently surpass customer expectations.

Real-Time Window Cleaner Tracking for Customers
Grant your clients the convenience of tracking your window cleaners in real-time when they're en-route to the service location. This enhances transparency, builds customer trust, and ensures prompt service delivery.
Integration with Xero and QuickBooks
Bridge the gap with trusted accounting software like Xero or QuickBooks to automate your financial management. This real-time synchronization of financial data simplifies invoicing, account reconciliation, minimizes manual data entry, and boosts accuracy, saving you time and reducing the potential for errors in your window cleaning business' financial operations.
Support and Training for your Window Cleaning Business with our Customer Success Team
No matter the scale of your window cleaning business - a budding startup, an established small enterprise, or a national chain, our customer support agents spread across multiple time zones are always ready to assist. Our experienced and friendly support team will help you navigate through our platform and have your operations running smoothly in no time.
Tutorial Videos
We offer a plethora of resources to enhance your understanding and usage of our system. This includes a comprehensive user guide, a dedicated YouTube channel filled with instructional videos, webinars, and live online training services. Additionally, we provide valuable tips and advice to facilitate your business growth.
Streamline Earnings & Commissions for Window Cleaners
Automate and streamline your payment management system for a large window cleaning workforce, ensuring transparency in earnings and commission details. Define criteria tailored to each window cleaner, service, and job, to facilitate accurate and efficient payment processing. Give your team real-time access to payment information and summaries, keeping them informed and updated.
Dedicated In-House Support
To resolve any issues or queries you might have, we offer in-house training sessions. These sessions include a complimentary 60-minute onboarding and setup consultation, during which we will answer your questions and guide you through the account setup process. If additional support is required, you can choose from our suite of services and book a more extensive paid support session.