The power of choice.
Give your mobile workforce the flexibility and choice to accept and decline bookings, making your company much more attractive to work for and ensuring your bookings are always going to be attended on time.
The Future of Work is Flexibility.
In our pursuit of service excellence, we've designed OctopusPro to be versatile enough to accommodate any service, at any place, at any time. Our groundbreaking feature allows field workers to indicate their working hours and availability or non-availability during the weekdays. The Booking Calendar displays these statuses as: None, Available, Booked, Special, and Unavailable, allowing for customizable hours for different days according to your workforce's needs.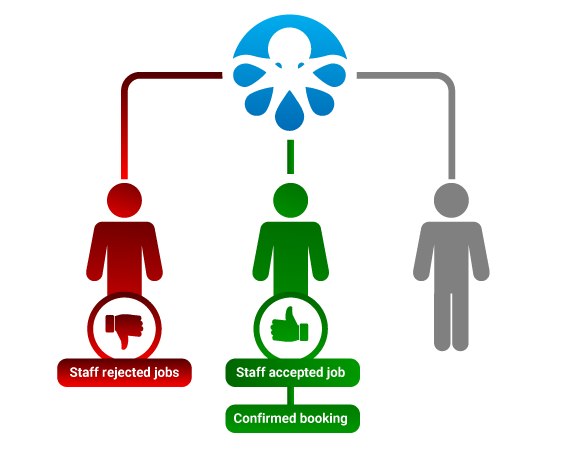 OctopusPro is designed to book any service, anywhere, anytime.
Flexible Booking Acceptance: Fieldworkers have the ability to accept or decline booking requests based on their availability and preferences.
Automatic Notifications: Fieldworkers receive notifications for new booking requests, which they can review and respond to directly from their mobile devices.
Manual Booking Confirmation: Fieldworkers can manually review and confirm each booking assigned to them. They can also negotiate appointment details or decline requests if needed.
Administrative Booking Control: Administrators have the power to approve, decline, or cancel reservations as required.
Booking Feedback Collection: Fieldworkers can provide feedback and state reasons for declining a booking, providing valuable insights for administrative planning and decision making.
Live Availability Management: Fieldworkers and administrators can manage booking availability using integrated live calendars.
Customizable Fieldworker Schedules: Fieldworkers can set their working hours for each day, and define general available/unavailable days.
Emergency and After-Hours Booking Management: The platform accommodates after-hours, emergency, and surge price bookings, giving fieldworkers the opportunity to accept these as per their discretion.
Travel Radius & Service Areas: Fieldworkers can define their service areas by setting a travel radius or using maps from their profiles.
Custom Service Activation: Fieldworkers can activate or deactivate specific services from their profiles, ensuring they receive notifications for bookings relevant to their current services.
Blocking Time Slots: Administrators can block specific time slots in a fieldworker's calendar, making them unavailable during that time and preventing clients from booking their services.
Setting Fieldworker Working Hours: Administrators can set and update the working hours for each fieldworker, ensuring that booking requests align with their actual availability.
Real-Time Availability: Clients can see real-time availability of fieldworkers when booking a service, enhancing transparency and reducing potential scheduling conflicts.
Syncing with Google Calendar: Fieldworkers can sync their OctopusPro calendars with their Google calendars, allowing them to manage all their appointments seamlessly in one place, and efficiently juggle their personal and professional commitments.
These features, together, provide a robust platform for fieldworker schedule management, empowering fieldworkers with flexibility and control while ensuring optimal operational efficiency for administrators.
Manage emergency work, after hours and surge price bookings!
We have extended support for after-hours, emergency, and surge price bookings, enabling administrators to approve, decline, or cancel a reservation promptly. Booking requests receive instant approval or can undergo an administrative review. Feedback collection from field workers provides valuable insights into job declines, helping implement service improvements.
Empowering the Mobile Workforce
OctopusPro equips you with the tools to manage bookings and appointments efficiently. Capture enquiries online, follow them actively until conversion, and provide seamless booking experiences for your customers. Enable your team to assist customers over the phone efficiently by checking resource availability. Let your mobile workforce and service providers accept or reject new booking requests directly from their smartphones or tablets using your App.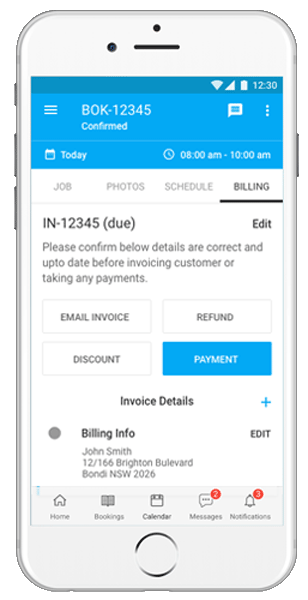 Smooth management of bookings
Accept online bookings and payments
Efficient handling of calendars and invoices
Detailed and customizable reports
Automate customer communications.
Implement geographical pricing, seasonal pricing, and specials.
Capture customer details, due and received payments.
Dispatch professional Emails and SMS.
Manage requests, bookings & cancellation
Create more revenue with booking extras
Automate customer communications
Set seasonal prices and specials
Setup customised and automated Emails
Advanced customisable reporting
Capture customer details, due and received payments
Send professional Emails & SMS
Handle field workers/staff check-in and check-out
Link terms and conditions, product documents, booking related attachments
Analyze and track conversions
Export and import data.
Sync with Google Calendar
Integrate with Xero and QuickBooks for comprehensive accounting
Ensure offline access for your mobile workforce through the app.
Plus much more

Auto and manual confirmations
With OctopusPro, automatic booking confirmations save time for your business. Additionally, you can switch to 'manual confirmation' mode as required. This flexibility allows field workers to review every new booking, negotiate new appointment details, or politely decline the requested appointment.

Work on any device
OctopusPro runs on any device, wether it's your desktop PC or Mac, laptop, tablet or smartphone, or any device that has internet and a browser. OctopusPro App is compatible with both iPhone and Android devices.

Be safe in the cloud
OctopusPro works from the cloud, meaning you'll never need to worry about software updates or data hosting. Your data is hosted securely and encrypted with the same technology used by big banks.

Go mobile
Your customers and mobile workforce can make and manage bookings online directly without having to contact your office, using your app or customised website.
Live availability
Easily manage the availability of your mobile workforce using integrated live calendars that can sync directly with external calendars like Google Calendar, directly through your account.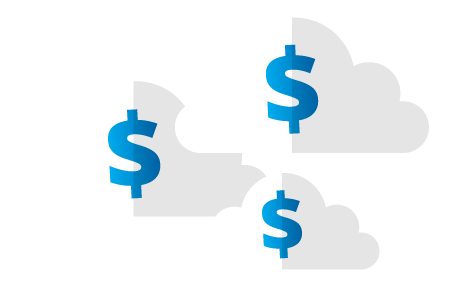 Flexible, Seasonal & Geographical Smart Pricing
In an increasingly competitive service industry, the ability to adapt pricing according to changing market conditions, seasonal variations, and geographical differences is crucial. OctopusPro's Flexible, Seasonal & Geographical Smart Pricing feature provides a comprehensive and versatile set of tools that enables you to manage, adjust, and optimize your pricing strategies effectively.
Key Features:
Create Specials and Apply Discounts: Develop unique offers and incentives to attract and retain customers. Implement percentage-based or fixed amount discounts to stimulate demand during slow periods or reward loyal customers.
Set Pricing Per Service, Location, or Field Worker: Have the flexibility to determine pricing based on the nature of the service, the field worker's experience and skills, or the location where the service is rendered. This allows for a more personalized and fair pricing approach.
Dynamic Discounting Rules: Design dynamic pricing strategies for larger jobs, offering discounts that can stimulate customer demand and result in higher total revenues.
Seasonal and Emergency Work Rates: Set varying rates for different times of the year or emergency work, taking into account factors like increased demand or higher operating costs.
Minimum Booking Amount Rules: Establish rules for minimum booking amounts per service or per booking, ensuring that each job covers its cost and contributes to profitability.
Dynamic Geographical Pricing Zones: With our innovative Map Drawing Tools, you can define specific Geo-Pricing Zones. This allows you to align your prices with localized market conditions, creating a balance between competitiveness and profitability. It updates the service cost in real-time when customers input their location, promoting transparency and enhancing customer confidence in your pricing mechanism.
Deliver Location-tailored Services: Provide your services at prices that reflect the specific economic realities of each location, enhancing the perceived fairness and appeal of your pricing.
Adjust to Regional Market Conditions: Adapt your pricing based on factors such as demand, cost of living, or competition in different geographical areas, ensuring competitiveness and profitability in each location.
Boost Customer Satisfaction: By offering competitive pricing that's adjusted for each location, you can enhance customer satisfaction and loyalty.
Increase Profitability: Optimize your profits by ensuring that your prices accurately reflect market conditions in each location where you operate.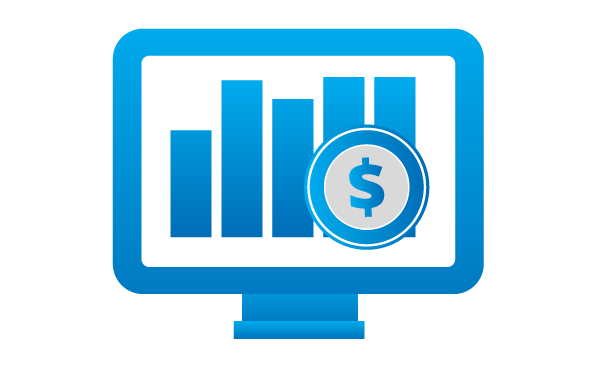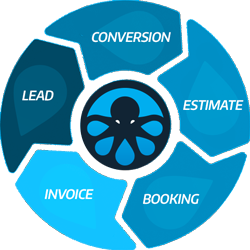 OctopusPro's Accept and Decline Booking feature is a crucial component of its comprehensive mobile workforce booking management system. It's an integrated solution designed for service-based businesses of all sizes, with connectivity and integration with leading CRMs and accounting systems.
This powerful feature gives fieldworkers in all mobile or field services – be it cleaning, gardening, mowing, locksmithing, pool care, plumbing, antenna installation, dog washing, babysitting, car detailing, removals, skip bins, private tutoring, security, painting, tiling, heating & cooling, solar system installations, pest control, and more – the power to manage their schedules effectively. It allows them to accept or decline bookings based on their availability and service preferences, ensuring an efficient distribution of tasks and optimised resource utilisation.
Moreover, the Accept and Decline Booking feature is also ideal for real estate agents and builders looking to manage contractors working on properties they manage. It brings transparency, flexibility, and control to job scheduling, making it a crucial tool for both service providers and administrators.
With OctopusPro's Accept and Decline Booking feature, you can ensure your business operates smoothly and efficiently, always meeting client expectations and maximizing fieldworker productivity.

Efficiency
Experience an uptick in booking management efficiency with the Accept and Decline Booking feature. This tool allows your team to manage more bookings per fieldworker, effectively boosting your online bookings, revenue, and profit. The feature's ability to track declined jobs also provides valuable insights into optimizing workforce allocation and service offerings.
Improve both your customer and staff satisfaction by transforming your business with OctopusPro. The Accept and Decline Booking feature makes job scheduling more flexible and efficient, resulting in happier customers due to timely and reliable service delivery. At the same time, your fieldworkers enjoy the ability to manage their workloads better, leading to increased job satisfaction. Enjoy the tangible benefits of this increased satisfaction through a rise in profitability.