Manage your accounts with your contractors and field workers
OctopusPro makes it easy for you to know who has been paid and who has not.
Manage your accounts with your contractors and field workers
OctopusPro makes it easy for you to know who has been paid for his bookings and who has not.
Manage Payments
Have all your payments stored together with your bookings and customers, so you never have to lose a payment again.
Manage Outstanding Amounts
Easily find out who owes you money and send them payment reminders. You can also automate the process by scheduling times for when you want all outstanding invoices to be emailed.
Spend less time invoicing
Completed jobs are automatically invoiced and the payment can be made online directly by the customer or staff. Reduce invoice double entry by sending your invoice and payment information to QuickBooks or Xero for financial accounting and tax reporting.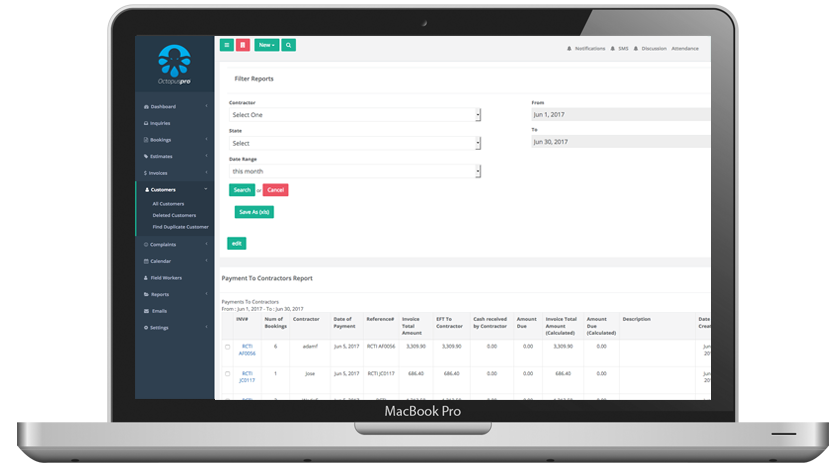 Built-in Invoicing
There is no need to use any other software for invoicing your clients as OctopusPro does it all for you.
Easier payroll tracking
Approve timesheets in OctopusPro and then send them to QuickBooks or Xero to use for payroll.
Accounting Integration With Xero & QuickBooks Online
Push your customer invoices to your accounting system in one click.

Sync customers & employees between your accounting system & OctopusPro.

Transfer invoice payments between your accounting system & OctopusPro and keep track of all payments from one place to avoid double entry.

Sync services list from your accounting system to OctopusPro and keep tracking of all changes.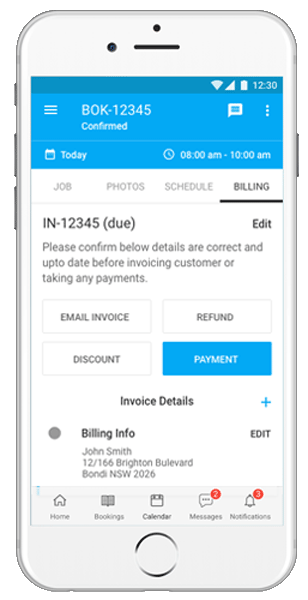 Sync with Xero and QuickBooks
Easily import and export data
You can easily and at anytime export all your data out of OctopusPro so you can use it somewhere else if required.
Access anywhere and anytime
Access and manage your reports online with no need to update software.
View reports 24/7 with real time availability

Centralise information for staff efficiency

Access your system anywhere with internet and a browser

Manage thousands of bookings effortlessly

Manage large teams of field workers without losing control

Provides transparency between contractors, staff and site workers

Capture data for business analytics, operational optimisation and marketing

Simplify your accounting and save time and money on your accounts
Efficiency
Grow your business through optimising resource availability, proximity, distribution with OctopusPro.
Enjoy the benefits of happier customers and staff when you transform your business with OctopusPro.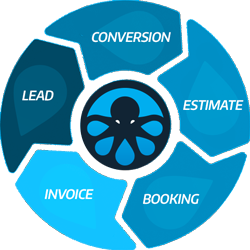 OctopusPro mobile workforce booking management system is an integrated online solution for service based businesses of all sizes, with connectivity and integration with leading CRMs and accounting systems.
OctopusPro is designed as the ideal management tool for all mobile or field services, from cleaning, to gardening, mowing, locksmiths, pool care, plumbing, antennas, dog washing, baby sitting, car detailing, removals, skip bins, private tutoring, security, painting, tiling, heating & cooling, solar system installations, pest control, or whatever it may be that your business offers as a service to it's clients. OctopusPro is also ideal for real estate agents & builders to manage contractors that work on properties they manage.